Philippe Glédel is an Antique dealer in Brittany, near Rennes, whom specialty is country french furniture, and particularly furniture from the most emblematic provinces of France, with a predilection for the Country of Rennes, but also Normandy, Picardy, Ile de France, Burgundy,
Provence and other prosperous regions, from eighteenth century to nineteenth century.
Furniture in the Louis XIV style, for the oldest, or most often in the Louis XV style, sometimes dated and signed, and which were hand-maded in woods such as wildcherry, cherry, walnut or oak, and which constitute the most beautiful wedding pieces of furniture from France. In his shop, if the Rennaise armoire is still well represented, it is next to the Normandy armoire, just as the chest of drawer from Lyons is next to his Provençale cousin.
Fascinated by the beautiful natural wood Louis XV commodes, this antique dealer has a predilection for the port pieces of furniture and especially the port shaped commodes in solid mahogany, from Nantes, Morlaix or St. Malo.
Regarding painting and objet d'art, the regionalism prevail. So he expose Brittany school paintings, Quimper earthenware and Bayeux and export chinese porcelain.
His taste looked also toward the seats of the Regency period, Louis XV, Transition or Louis XVI, so he still has in presentation a beautiful armchair or a large easy chair, in walnut or beech, natural or painted, which may be accompanied by a fine Parisian piece of furniture, in solid mahogany as well as veneer or even inlay.
Finally, having also a passion for miniature pieces of furniture as well as for small hanging Provencal pieces of furniture, salt box, farinière, dough-box, verriau, étaignier or shelf unit ... he frequently propose those items to his customers.
Other kinds of furniture are also displaying of course : it can be a buffet or sideboard, a dresser, a flat desk, a writing slope, a farm table, a server, a nice curved corner cupboard, a pair of nightstand tables, a large bookcase or a rare grandfather clock ...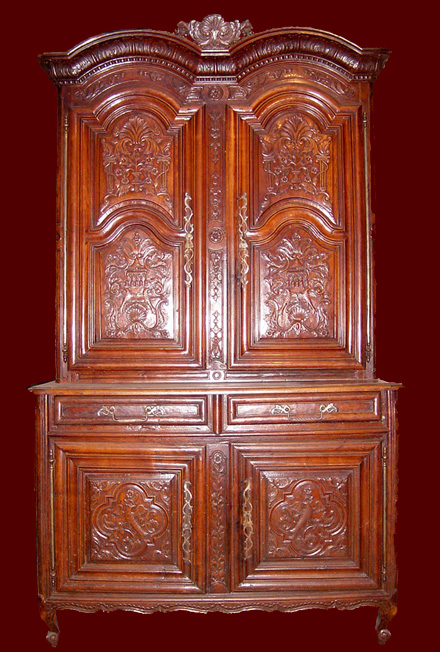 A suggestive list of the most usual pieces of furniture proposed for sale
is drawing up below, so if you are looking for such pieces of furniture,
do not hesitate to contact us.
WEDDING WARDOBES
RENNAISE, PROVENCE, NORMAN, BOURGUNDIAN WEDDING ARMOIRE - WARDROBE
Louis XV CHESTS OF DRAWERS
PORT, MAHAGONY, PROVENCALE, LYONNAISE, COMMODE - CHEST OF DRAWER

SIDEBOARDS BUFFET DEUX CORPS
RENNAIS, NORMANDY , ILE DE FRANCE, PROVENCE BUFFET - SIDEBOARD
LARGE SIDEBOARDS
NANTES, ILE DE FRANCE, PICARDY TRAITE - ENFILADE - SIDEBOARD
Louis XV GRANDFATHER CLOCKS
RENNES, NORMANDY, PICARDY, ST. NICOLAS GRANDFATHER CLOCK
Louis XIII - Louis XV TABLE
RENNAISE, WALNUT, CHERRY, CABARET, CABRIOLE TABLE